Created out of love, Sprinkie Parties is an online party store that aims to spread happiness all around! Children parties are our specialty but we provide party planning and styling services to create dream parties and gorgeous soirees for any type of celebration! Our superhero party helpers promise to make your event pretty + transform it into one helluva splendid shindig. Our balloon, party supplies and rental store also brings you only the prettiest decorations, thoughtful arts, cutest gifts and other specially-curated finds that will make your heart go pitter-patter.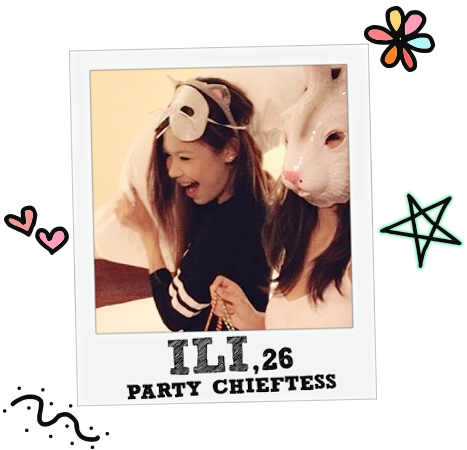 ILI D – PARTY CHIEFTESS Founder & Creative Director
"I've always believed in savoring the moments. In the end, they are the only things we'll have."
Hi! My name is Ili and I absolutely love parties! I channel inspiration from things and people that make me happy everyday. Together with my love for putting together whimsical soirees, I was inspired to create Sprinkie Parties – a one-stop party center with a mission to spread love and happiness all around – because I always believe that love and happiness should always be celebrated!
I started planning parties for my friends since my secondary school days, just for the fun of it. Owning my own party store has always been my lifelong dream, but upon graduation, somehow things took a turn and I travelled the world for a living instead. 6 years on, I eventually gave up my marketing role at The Butter Factory to pursue my initial dreams and started Sprinkie Parties in 2014!
Motto: Do everything with so much love in your heart that you would never want to do it any other way.